Dental Associates Discount Plan
If you don't have dental insurance, dental care and costs can seem daunting. Dental Associates Discount Plan can help you save on dental care for you and your family. For one annual fee, you'll get immediate access to discounts for routine care as well as other procedures to keep you in great overall health!

Dental Associates Discount Plan is accepted at Dental Associates Orland Park as well as a few additional Chicagoland dental clinics. Below you'll find the annual enrollment fees and a sample chart so you can see how much you'll save on dental care when you enroll in Dental Associates Discount Plan. Keep in mind that these fees may differ depending on which participating Chicagoland provider you choose.
Affordable Dental Premiums
Single Plan $199 / year
Member + 1 $390 / year
$99 Additional Child - Age 17 and under
$149 Additional Family Member - Age 18-25
Annual premium cost must be paid in full on your enrollment date. Payment by cash, check, or credit card is accepted.
Dental Discount Plan Highlights
Dental Associates Discount Plan offers low annual fees and great discounts on all dental services, which helps you save significantly on out-of-pocket dental care expenses.
Immediate Savings
With this discount plan, there's no waiting period so your savings will go into effect at your first appointment.
Individual or Family Plans
Choose the best plan for your situation: you can sign up for just you, you and a spouse, or you and your family.
Check-Ups Included
Your 6-month cleaning, exam, and X-Rays are provided at no additional cost to you.
General & Specialty Providers
The Dental Associates Discount Plan network includes general dentists and specialists, so you won't need to search for additional providers to complete all the dental care you need—from cleanings and exams to dental implants and oral surgery.
Dental Care Frequency
Services Covered at 100%
When you purchase a Dental Associates Discount Plan, the following procedures are covered at 100%:
Bitewing X-Rays*
Exam**
Full Mouth X-Ray; Panorex
Prophylaxis-Adult or Child**
* Covered twice per year
** Covered once per year
Services Covered at 20%
The following procedures are covered at 20%:
Fillings
Space maintainers
Cast restorations
Simple extractions
Periodontal scaling
Root canals
Bridges
Partial and complete dentures
Adjustments and repairs
Fluoride treatment
Intravenous sedation
Emergency palliative treatment
X-rays in addition to the full series
Services Covered at 10%
The following procedures are covered at 10%:
Implant placement
Oral surgery
Endodontics
Periodontics
Participating specialists will discount periodontic, endodontic, and oral surgery services by 10%
Sample Savings with Dental Associates Discount Plan
The chart below displays an example of how Dental Associates Discount Plan works to provide your dental benefits: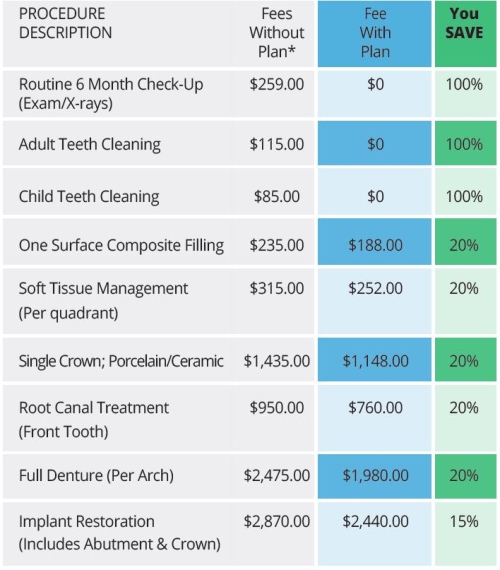 *70% percentile of the 2017 Fair Health industry data for 606-608 zip codes for Chicago, IL. Actual fees charged by participating providers may vary. Discounts do not apply to upgraded services.
Why Dental Associates Discount Plan?
Dental Associates Discount Plans were created by a small group of dental providers in Illinois as a vehicle to make dental care more affordable for Chicagoland residents.
Their focus is on preventive services and biannual exams, X-rays, and cleanings to keep teeth healthier for longer. This is not dental insurance; it is a savings plan for patients of all ages without any dental insurance coverage.
Whether you're looking for a dental discount plan for just yourself or for your entire family, Dental Associates Discount Plan has a plan to fit your needs. For an annual fee, you'll get access to discounts at nearby state-of-the-art clinics with caring dental providers that can deliver the oral health care you'll need to stay smiling all year and beyond!
Dental Associates Discount Plan is filed with the state of Illinois' Department of Insurance. Network dentists must meet plan standards to participate, which contributes to you receiving high-quality dental care at an affordable price. Dental Associates Orland Park is one of the Chicagoland providers who accepts Dental Associates Discount Plan; be sure to ask about this discount plan at your next appointment!


Learn more at dentalassociatesdiscountplan.com and see a full list of Chicagoland dental providers accepting Dental Associates Discount Plans.

Also Consider Reading...