Dental Financing
We are proud to offer you payment options to help you with your recommended treatment plan. CareCredit provides flexible payment options to fit your needs while keeping your smile as healthy as possible.


What is CareCredit?
CareCredit is a personal line of credit for your entire family's health care needs. Upon approval, this dental financing option provides a monthly payment option that allows you to receive the care you need now while providing convenient payment options. Financing options may be available to you, including no interest if your balance is paid in full within the end of the promotional period. Deferred interest may also be available. (Monthly payments are required. Subject to credit approval.)
In addition to being able to use CareCredit at our clinic, CareCredit is accepted at over 175,000 health care providers nationwide and covers procedures and treatments such as veterinary, vision, cosmetic, chiropractic, hearing and more. Think of CareCredit as a credit card for dental care, health, and wellness.
With CareCredit, the Pay My Provider feature allows you to use your CareCredit card to pay your health care bill from home if there is an existing balance after your services are rendered. Learn more about Pay My Provider.
Apply for CareCredit Today!
The application process for CareCredit dental financing is completely confidential and takes less than 10 minutes to complete. Many approved applicants have a minimum credit score of 540/560. You can also apply with a co-signer to improve the likelihood of being approved.
Apply for CareCredit online now, or ask our front desk team for more information at your next appointment.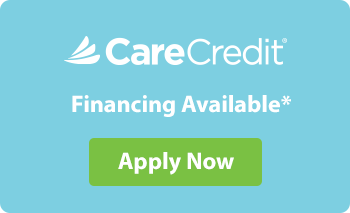 Also Consider Reading...