Orland Park Dental Implants
Dr. Richard Pape's team at Dental Associates Orland Park can help you get your smile back with dental implants. Dental implants are the modern alternative to replacing missing teeth. Unlike dentures or bridges, dental implants are a permanent tooth-replacement option that will last for many years longer. Learn about our dental implant options below!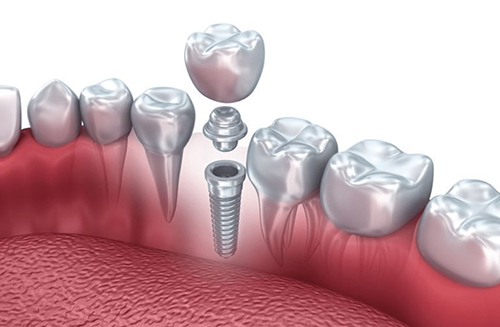 Single-Tooth Dental Implants
When both the tooth and root are damaged, the best permanent replacement option is a dental implant in conjunction with a ceramic crown. This solution both looks and functions just like a natural tooth.
Learn more about single-tooth dental implants.
Dental Implants for Multiple Missing Teeth
If you're missing more than one tooth, you may be a candidate for multiple dental implants. With this procedure, we can use dental implants to restore form and function of your mouth.
Learn more about dental implants for multiple missing teeth.
All-On-Four Teeth In a Day
When you're missing all or most of your teeth, you may be a candidate for All-on-4 dental implants. With All-on4 dental implants, we can place four implants or less and attach full-arch dental implants, giving you the look and feel of natural teeth.
Learn more about All-on-4 dental implants.
Ready to Get Started?
Request an appointment with Dr. Pape by clicking the button below.

Also Consider Reading...