Dental Implants
Restore Your Smile to Full Function with Dental Implants!
Dr. Richard Pape's team at Dental Associates Orland Park can help you get your smile back with dental implants. Dental implants are the modern alternative to replacing missing teeth. Unlike dentures or bridges, dental implants are a permanent tooth-replacement option that will last for many years longer. Learn about our dental implant options below!
Single-Tooth Dental Implants
When both the tooth and root are damaged, the best permanent replacement option is a dental implant in conjunction with a ceramic crown. This solution both looks and functions just like a natural tooth.
Learn more about single-tooth dental implants.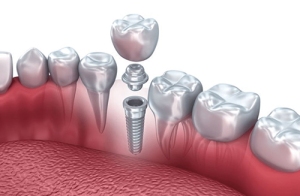 Dental Implants for Multiple Missing Teeth
If you're missing more than one tooth, you may be a candidate for multiple dental implants. With this procedure, we can use dental implants to restore form and function of your mouth.
Learn more about dental implants for multiple missing teeth.
All-On-Four Teeth In a Day
When you're missing all or most of your teeth, you may be a candidate for All-on-4 dental implants. With All-on4 dental implants, we can place four implants or less and attach full-arch dental implants, giving you the look and feel of natural teeth.
Learn more about All-on-4 dental implants.
Replacing Dentures with Dental Implants
In the past, people missing all their teeth were limited to two options: bare gums or dentures. Dental implants are the modern alternative to dentures. By replacing your dentures with dental implants, you can finally have a permanent solution to your missing teeth.
Learn more about replacing dentures with dental implants.
We Team with Local Implant Experts
to Assure the Best Outcomes
We collaborate with local dental implant experts, and our next-door neighbors, Park Dental Specialists to develop a treatment plan that will eliminate your pain and deliver the longest lasting solution.
Here's how it works...
Exam & Diagnosis: Your journey starts at our office where our team develops a diagnoses
Consultation & Treatment Planning: Next, you have a consultation at Park Dental Specialists to confirm that diagnosis and our two teams collaborate on a treatment plan
Surgery: Anything surgically related, from extractions and bone-grafting to the placement of your implant(s), will take place at the Park Dental Specialists office
Restoration: After the appropriate time for healing, you will return to our office for the "restoration" process, where we place the final implant crown, bridge, or overdenture
Maintenance: After treatment is completed, a custom maintenance plan will be developed for you to assure your dental implant(s) last for years to come
This proven process has led to many, many successful outcomes for our patients. If you would like to learn more about our implant partners, please visit ParkDentalSpecialists.com.
Ready to Get Started?
Request an appointment with Dr. Pape by clicking the button below.

More about Dental Implants...