Same-Day Dental Implants
Replace Missing Teeth with All-on-4 Dental Implants
All-on-4 dental implants are the best, most cost-effective way to replace teeth if you're missing all or most of them. In some cases, All-on-4 dental implants can be placed in one day, resulting in a quick procedure to help you get your smile back.
What is All-on-4?
The All-on-4® treatment concept is a state-of-the-art innovative procedure that provides patients permanent fixed teeth utilizing as few as four dental implants for one arch. Dr. Pape specializes in offering you new teeth in as little as one day by using the All-on-4® treatment concept for those that are about to lose or have lost all their upper and/or lower teeth.
Benefits of All-on-4 Permanent Teeth in a Day
All-on-4 teeth in a day provide patients many long-lasting benefits, including:
New teeth in as little as just one day
Minimally-invasive procedure
No more ill-fitting dentures
Eliminates the need for annoying denture adhesives
Teeth are secure like your natural teeth
Cost-effective compared to traditional implants
A life-changing procedure that allows you to eat the foods you want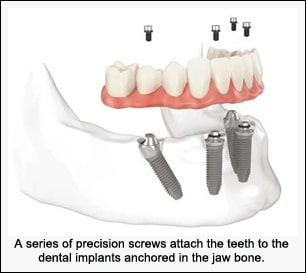 Ready to Get Started?
Request an appointment with Dr. Pape by clicking the button below.

Also Consider Reading...
Dental Implants for Multiple Missing Teeth
Replacing Dentures with Dental Implants