Full Arch Dental Implants
What are Full Arch Dental Implants?
Full arch dental implants are a set of fabricated teeth that are secured with titanium implants that are set into your jaw. Full arch implants can use between four to eight implants to secure your new teeth.
Full arch implants look and function like natural teeth and can be brushed and cleaned the same way. Unlike dentures, implants are not removable and therefore do not require adhesives. Implants are a safe and permanent solution to missing multiple or all your teeth with a 98% success rate for our patients.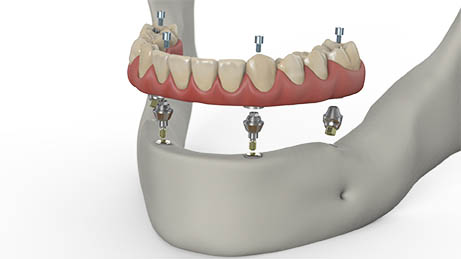 Implant Procedure
After you have scheduled your consultation and your doctor has determined you are an ideal candidate for this procedure, you will schedule surgery where the titanium implants will be secured into your jaw. This allows for you to bite and chew normally while preventing bone resorption and restoring your facial features. Surgery is approximately 2.5 hours per arch. After surgery, a temporary set of teeth will be placed on the implants while we wait for your mouth to completely heal.
After the healing process is complete, you will return to the office for your permanent set of teeth to be placed—approximately six months after surgery. Once they are placed you are all set! You can eat, chew, and clean your teeth normally all while gaining confidence.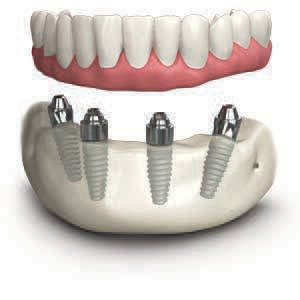 Learn More
If you have any questions or would like to hear more about the life-changing benefits of full arch dental implants, schedule your consultation today! You'll love your new smile!


Also Consider Reading...
Dental Implants for Multiple Missing Teeth