Porcelain Veneers
What are Porcelain Veneers?
Veneers may be used to modify or enhance the color, size, and shape of your teeth. Porcelain veneers provide an excellent alternative to crowns, bonding, tooth-whitening procedures, and in some cases, orthodontia. Porcelain veneers require at least two office visits and are fabricated by a skilled dental laboratory technician.
Advantages and Benefits of Dental Veneers
The porcelain veneers procedure takes only two appointments. Dr. Pape will remove a conservative amount of tooth structure during the procedure. Veneers are the most biocompatible material you can use next to the gingiva (the part of the gum tissue that immediately surrounds the teeth and alveolar bone). With porcelain veneers, a healthy natural look is achieved; in fact, porcelain veneers are the most aesthetic restoration in dentistry.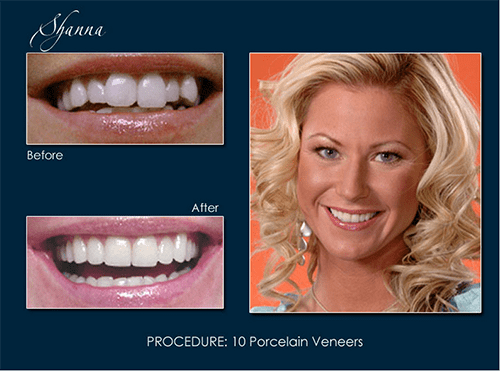 Before and after of porcelain veneers on a patient of Dr. Pape.
How are Veneers Different from Bonding or Crowns?
Porcelain veneers are much different than dental bonding and crowns. Bonding uses a resin filling material to cover the front surface of teeth. In general, today we use bonding only to fill in small cavities and to repair chips in teeth. We use a full dental crown to restore a tooth when it's had root canal treatment or when a substantial amount of the entire tooth structure (enamel) has been lost.
Porcelain Veneers Procedure
At your first appointment, Dr. Pape will prepare your teeth for the veneers and we will take an impression. This impression is then sent to a lab where each porcelain veneer is custom-made to Dr. Pape's specifications. We'll fabricate beautiful temporary veneers to simulate your new smile so you can expect to leave the first appointment looking better and feeling more confident than when you came in. At your second appointment, the veneers are permanently adhered to the natural teeth, resulting in a completely transformed smile!
How to Care for Porcelain Veneers
Porcelain veneers can last for many years depending on how well you take care of them. Because dental veneers are stronger than simple bonding, they are also more resistant to stains and chipping. We encourage you to maintain regular oral hygiene at home and visit our clinic for routine cleanings and exams to ensure that your new veneers are in good shape and receiving proper care.
Refrain from habits that can damage porcelain veneers such as nail-biting, opening bobby pins, and chewing on hard objects like hard candy and ice. Once veneers are applied, treat them like natural teeth and they will last for years to come.
Ready to Get Started?
Request an appointment with Dr. Pape by clicking the button below.

Porcelain Veneers Results
Here are photos of real patients of Dr. Pape who have received a brand new smile with porcelain veneers: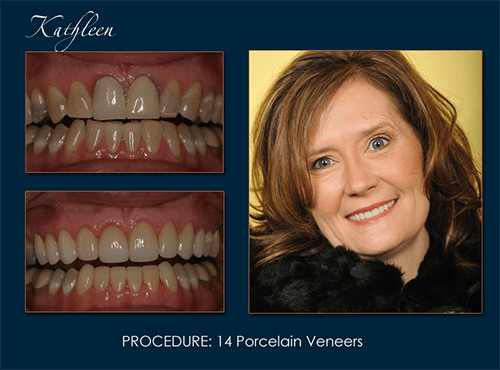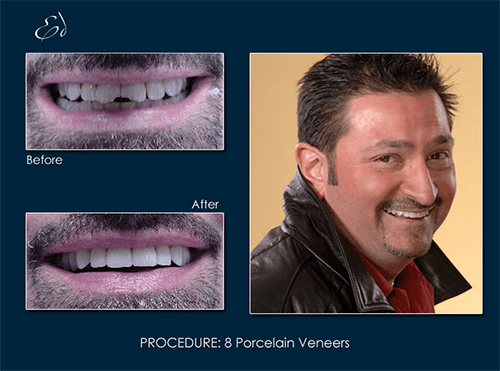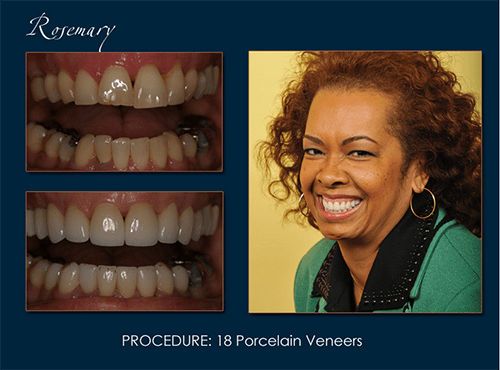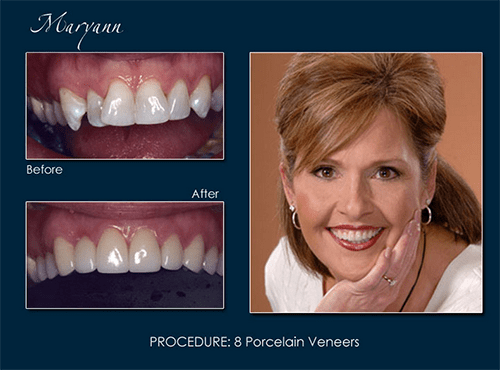 Also Consider Reading...