Orland Park Teeth Whitening
Professional teeth whitening is the safest and fastest way to a whiter, brighter smile. At Dental Associates Orland Park, we offer 2 options to fit your lifestyle.
Take-Home NiteWhite Teeth Whitening
NiteWhite is a fast, safe, and effective teeth whitening system. The whitening gel is a thick gel solution you apply yourself at home using a tray created from a mold of your teeth. This custom tray allows the gel to sit closer to your teeth than with a one-size-fits-all tray, resulting in stronger results, especially in harder-to-reach spaces.
You will wear the trays while you sleep for ultimate performance and maximum convenience. In 10-14 nights, you can achieve exceptional whitening results. The active ingredient in NiteWhite, carbamide peroxide, has been recognized by the FDA for many years as an oral antiseptic and is now used for its superior whitening properties.
If you prefer daytime whitening to traditional overnight systems, DayWhite whitens teeth for only 30 minutes twice a day. Dr. Pape can help you choose the teeth whitening system that will work best for your individual lifestyle.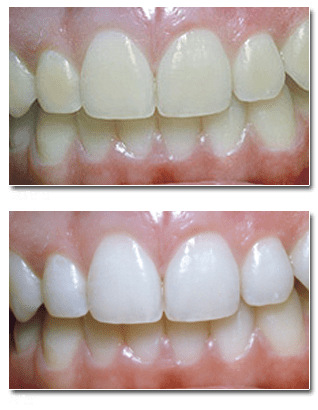 Before and after of a teeth whitening procedure by Dr. Pape.
In-Office ZOOM! Teeth Whitening
Another professional teeth whitening option we offer is ZOOM! in-office teeth whitening. ZOOM! light-activated gel was developed after years of research by leaders in professional take-home tooth whitening. The gel is scientifically formulated using pH-balanced Hydrogen Peroxide that, when activated by the Zoom! light, gently penetrates the teeth to remove deep stains and discoloration while leaving the structure of the tooth unchanged. With proper care and an occasional touch up at home, your whiter smile will sparkle for years to come.
Teeth whitening is a well-established procedure in cosmetic dentistry. Hydrogen Peroxide, the active ingredient in Zoom!, has also been safely used for many years in the treatment of gums and other oral soft tissue.
The whitening process is effective on most discolored teeth. Darker stains, such as those caused by antibiotics, are more difficult to whiten. The degree of whiteness will vary from patient to patient, depending on the structure of the teeth.
Dr. Pape can help you discover how ZOOM! in-office teeth whitening will work for you. Take your first step to feeling good, looking great, and making a memorable impression every time you smile.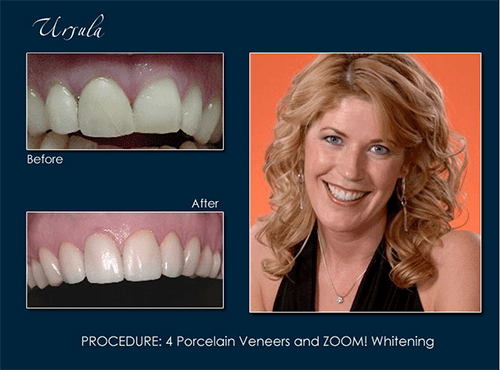 Before and after of dental veneers and a ZOOM! teeth whitening procedure by Dr. Pape.
Ready to Get Started?
Request an appointment with Dr. Pape by clicking the button below.

Also Consider Reading...